Paint and cereal thrown at east London cafe in attack owners describe as 'terrifying'

Hundreds of protesters attacked a cereal cafe in east London on Saturday night, daubing the word "scum" on the shop window and setting fire to an effigy of a police officer.

Riot police were called in to defend the Cereal Killer Cafe in Shoreditch after it was targeted by a large crowd of anti-gentrification activists carrying pigs' heads and torches.

The owners of the cafe, which has been seen by some as a symbol of inequality in east London, said on Sunday that the attack left customers including children "terrified for their lives".

The hipster Cereal Killer Cafe owners aren't the East End's real enemy
Audrey Gillan

Gary Keery, 33, who founded the cafe with his twin brother, Alan, said: "It's senseless violence, isn't it? We've had some letters through the letterbox saying 'die hipsters' and stuff but nothing to this extreme. It just doesn't make sense." Footage of the attack filmed from inside the shop and obtained by the Guardianshows masked protesters shouting outside the shopfront. One man daubs graffiti on the window while another is seen holding a burning stick.

The Metropolitan police said one of their officers had suffered an injury to his face as a result of a bottle thrown during the disorder, caused by a "criminal element within a group of several hundred people" who had thrown missiles and attacked shops on Brick Lane.

They added that one protester was arrested on suspicion of criminal damage.

One protester who was at the demonstration said the Cereal Killer Cafe was targeted as a "symbol of gentrification", although he said a nearby estate agent, Marsh & Parsons, was also attacked. The cafe, which opened in December, was open as usual on Sunday morning, with queues of customers paying up to £4.40 for a bowl of cereal.

Gary Keery said customers – including children – barricaded the cafe doors when the disturbance started but then had to be moved downstairs to safety. At one point the protesters managed to break into the small shop and threw a smoke bomb and furniture inside the doorway, he said. Other masked figures threw red paint and cereal at the shop windows.


FacebookTwitterPinterest Footage from the protest shows damage to the cafe and a nearby estate agent and burning torches in the street

"If they really believe in the protest, why are they covering their face while they're doing it? Why are they wearing pig masks?" Gary said. "It's not just the fact that someone threw paint on the windows, there's more of a deep-rooted issue that needs to be looked at. You need to look at why they're attacking us."

The cereal-only cafe has sparked controversy since its opening. The Keery brothers were forced to defend their prices after a Channel 4 News interviewer asked whether local people could afford £3.20 for a bowl of cereal.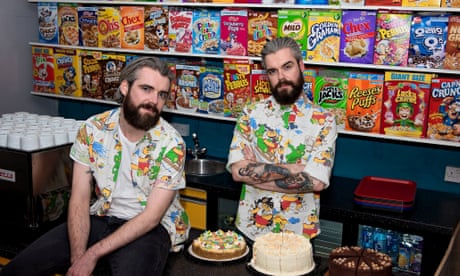 Can the Cereal Killer cafe, which sells only cereal, really make a killing?


Gary dismissed the suggestion that his business had become a symbol of east London gentrification. "There's another Pret at the top of the street here and that wasn't targeted. We're an independent business, we've got two shops, we've only been open months," he said.

"If you want to talk about gentrification and different classes, you don't go about attacking independent businesses who are putting their whole life on the line to open a business, you go to the conglomerates and big companies."

The protest was advertised on Facebook as the third Fuck Parade, and was apparently organised by the anarchist group Class War. The event page stated: "Our communities are being ripped apart – by Russian oligarchs, Saudi sheiks, Israeli scumbag property developers, Texan oil-money twats and our own home-grown Eton toffs. Local authorities are coining it in, in a short-sighted race for cash by 'regenerating' social housing.



"We don't want luxury flats that no one can afford, we want genuinely affordable housing.

We don't want pop-up gin bars or brioche buns, we want community." The Fuck Parade organisers had not responded to requests for comment at the time of publication.

Esther Planas Balduz, 55, an artist who attended the protest after hearing about it on Facebook, said she supported the cause because she was evicted from her home of seven years when her rent doubled last year.

"I've lived in Shoreditch for 17 years and it's appalling what's been going on. Its our fault, artists like me go to these kind of areas, then the architects follow, the developers, the hipsters etc," Balduz said. "The problem is social cleansing. There are no protections for us. The law does not protect us, only the greedy landowners."

Balduz said the protest seemed "more like a punk carnival" and hoped it would open up debate on the issue of gentrification. "Even if a few became a bit aggressive, it was really less aggressive than the masses of drunks I have to cope with every weekend in the area," she said.

Another protester, who declined to be named, conceded that there were "more justifiable targets" than a small independent business, but played down the scale of the attack.