Editor's Note: To urbanists, the problem with displacement has an easy fix, force development on the suburbs. The city dwellers want to make sweetheart deals with developers to increase the value of their housing stock and push the low/moderate income folks out to the suburbs. How will they do this? Through agencies like MTC who will force housing quotas in Marin. Goodbye to local control.
The Biggest Problem With San Francisco's Rent Crisis
The suburbs.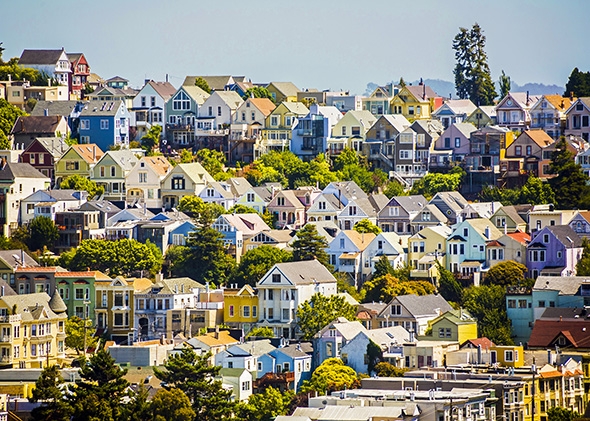 I
n the big, sad joke that is America's urban rent crisis, San Francisco is a recurrent punchline. Last year, photographer Scott Hampton
adopted
a real estate broker's poetic license to advertise "waterfront condos," "cozy studios," and "lofts" alongside pictures of dumpsters, trash cans, and manholes. And this month the
Onion
reported
that San Francisco would shut its doors due to rising rent—a literally
unbelievable premise, but one that's not too far from the mentality of Bay Area anti-gentrification activists who believe that stopping new housing projects will halt new arrivals at the city limits. David Campos, the supervisor who represents the city's Mission District, has proposed halting all new residential construction in that hip, Latino neighborhood for a period as long as two years. The moratorium narrowly
failed
in a Board of Supervisors vote earlier this month but may be reborn as a ballot initiative in November.
*
San Francisco has the highest rents of any large city in the U.S. The city doesn't build nearly enough housing. But it doesn't deserve to be the poster child for inaction in the face of inequality: In 2014, San Francisco built about
30 percent more
housing units per capita than New York City, and more housing units per capita than Los Angeles. Between 2007 and 2014, San Francisco
issued
as many permits per capita as booming Santa Clara County, home to San Jose and Silicon Valley, one of California's fastest-growing counties.
The biggest problem with housing in San Francisco isn't actually in San Francisco. It's in the suburbs.
In the Bay Area, the cities that have shut their doors to housing are the suburban municipalities that contain most of the region's population. "The smaller communities, in my opinion, need to step up, and I don't see that happening," San Francisco planning director John Rahaim says. "There's such a huge demand in general and that can't be met just by the big three cities."
Nor should it be. Once upon a time, a forward-thinking planner might have conceived of the region as three high-density nodes of housing and jobs, in San Francisco, San Jose, and Oakland, with quiet bedroom communities strung like beads along commuter rail lines and highways.
But that vision has long since been dashed by the Bay's unusually sprawling geography of employment. Of the
1.75 million jobs
within 35 miles of downtown San Francisco, only 45 percent are within 10 miles. That's 12 percentage points lower than average for a big U.S. city. Adding new housing
only
in the big three cities, then, will only exacerbate the region's transportation woes.
To some extent, job sprawl in the Bay has the same causes as elsewhere. Manufacturers sought cheap land and highway access. Pulled by emigrating executives, white-collar work shifted to campuses and office parks. Retail and services followed consumers down the highway.
In this part of the country, though, this phenomenon played out with special intensity because of Proposition 13, the 1978 ballot referendum that froze California's property tax rates. David Dowall, a professor of regional planning at the University of California–Berkeley, was one of the first to observe how the law skewed small-town zoning priorities. "Caught in a fiscal squeeze," he
wrote
in 1982, "many towns have stepped up efforts to increase their tax base by attracting more commercial, office, and light industrial development. While attempting to attract economic development, most communities have not concomitantly adjusted their zoning to provide housing for additional employees. Consequently, new employees, particularly those migrating to the region, find it extremely difficult to acquire affordable housing."
Three decades later, Dowall's words perfectly describe San Mateo County—San Francisco's visually suburban neighbor to the south, home to Oracle, Facebook, and YouTube—which hosts almost one job for every two residents. (That's a considerably higher ratio than Westchester or Nassau Counties, adjacent to New York City, and nearly as high as San Francisco itself.) It's also the most expensive county in the Silicon Valley region to
buy
or
rent
a home.
The wreckage of this perfect storm: A region with housing costs so high they are a drain on national economic indicators, zoning restrictions so stringent they push new residential construction to the fringes of the East Bay, and an average commute that takes
longer
than it does in Los Angeles.
So, how do you get existing suburbs to build their share of housing? In the Bay, at least, the Association of Bay Area Governments (there are nine counties and more than a hundred municipalities) has for years set forth a "
Regional Housing Need Allocation
" that
suggests
how much housing various counties and towns should build. They rarely cut it: Marin County, where George Lucas is
building affordable housing
to spite his NIMBY neighbors, didn't clear 30 percent of its "objective" in 2014. San Mateo was at 42 percent. The region as a whole built half what had been deemed necessary.
In 2008, with climate change in mind, Sacramento required the state's metropolitan regions to draw up long-term plans for urban growth. Five years later, ABAG and the Metropolitan Transportation Commission (a more powerful regional organization) introduced Plan Bay Area—a proposal to funnel the majority of housing and business growth into just a few key areas.
"The three main cities of the Bay Area, while there may be background noise, have made significant and sustained commitments to housing," says Randy Rentschler, the director of legislation and public affairs at MTC. Elsewhere, progress has been spottier. "There is every incentive not to do it, economically," he says.
But in contrast to the toothless RNHA, the commission controls about $1.5 billion in regional transportation funds each year. For municipalities, Rentschler said, the offer is simple: Build more housing, get more money. With homes and jobs closer together, commutes get shorter, easing the weight on the region's sagging transportation infrastructure. With better incentives to allow more construction, cities might start building enough housing to bite into the monthly rent increases.
Naturally, some conservatives see Plan Bay Area as part of the broader, Soviet-style plot to urbanize America. "The ultimate vision is to make all neighborhoods more or less alike," wrote Stanley Kurtz in
National Review
, "turning traditional cities into ultra-dense Manhattans, while making suburbs look more like cities do now." In response to this type of criticism, Plan Bay Area bothered to republish the American Planning Association's
factsheet
on Agenda 21, a popular conspiracy theory that's invoked in local land-use meetings to foil schemes for bus lanes and apartment buildings. (Meanwhile: What living environment in human history is more a product of central planning than American suburbia?)
Suburbanites, who always seem to value the freedom to drive more than the freedom to build, can relax. The Bay Area is not being Manhattanized—or even Brooklynized—at any scale. Plan Bay Area is neither radical nor combative. It directs housing and job growth primarily to jurisdictions that want it. Housing advocates have complained that, far from pushing for more balanced, regional urbanization, it concentrates 95 percent of 30-year housing growth in just 15 of the region's hundred-plus cities.
That same imbalance in the PBA predecessor, RHNA,
prompted
a letter of concern from the federal Department of Housing and Urban Development (HUD) that the plan might violate fair housing laws. And this month, HUD is
finalizing rules
that will allow the department to use grant money to fight segregation. Congressional Republicans are currently trying to block the rule, called Affirmatively Furthering Fair Housing. Writing in
National Review
, Kurtz warned AFFH would "urbanize suburbs and Manhattanize cities."
But suburbs are a hard nut to crack. New York's Westchester County, which is half detached
single-family homes
despite boasting one of the world's best commuter railroad systems, has been
ignoring
a court-ordered fair-housing plan for six years. Its county executive, Rob Astorino, has
railed
against "social engineering" and even asked if HUD also planned to break up ethnic urban neighborhoods.
Surely Astorino was being sarcastic, but that's exactly what affordable, proximate suburban housing did to white ethnic enclaves in the 1940s and '50s. It was a terrible thing for U.S. cities then: San Francisco's population, like that of most other U.S. cities, fell for three straight decades. Suburbs employed racial
covenants and other measures to keep out blacks. Car dependency was etched into the landscape.
But a modern-day building boom in the inner suburbs wouldn't repeat those mistakes—it would correct them. This time, it would do a city like San Francisco good.
*Correction, June 22, 2015: This article originally misstated that a proposed moratorium on residential construction in the Mission District failed the week before the article's publication. The moratorium vote failed earlier in June. (Return.)