The Rent Crisis Is About to Get a Lot Worse
Millions of households could join the ranks of those spending more than half their income on rent, Harvard study warns
How bad can rental affordability in the U.S. get? Even worse.
That's pretty bad.
The number of U.S. households that spend at least half their income on rent—the "severely cost-burdened," in the lingo of housing experts—could increase 25 percent to 14.8 million over the next decade. More than 1 million households headed by Hispanics and more than 1 million headed by the elderly could pass into those ranks. Households shouldn't spend more than 30 percent of income on housing, by the general rule of thumb.
The grim figures come from a report out today from Enterprise Community Partners, an affordable-housing nonprofit group, and Harvard's Joint Center on Housing Studies. To reach their conclusions, the researchers considered various scenarios for wage and rent growth over the next decade.
Even in the best case posited by the report, with wages growing a full percentage point per year faster than rents, the number of severely-cost burdened households will barely fall, from 11.8 million in 2015 to 11.6 million in 2025. In the baseline scenario, where rents and wages (and inflation) increase at 2 percent each year, the researchers expect the number to reach 13.1 million.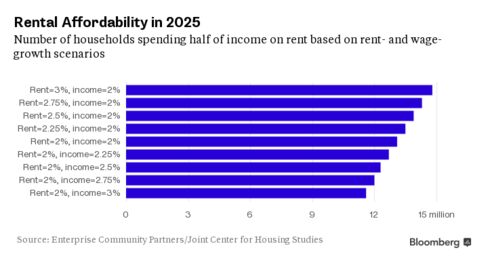 There were 11.2 million severely burdened renter households in 2013, competing for 7.3 million units affordable to them, the report said. If rents continue to rise faster than wages, the number of households spending more than half their income on rent will rise, too. Wages grew 0.2 percent in the second quarter of this year, the
slowest pace
since 1982.
"The economy alone is not going to solve this problem," said Andrew Jakabovics, senior director of research at Enterprise Community Partners, in a conference call to discuss the findings. "It brings us back to the need to expand affordable housing,"
The report didn't break out the share of severely rent-burdened households by income, but the poorest Americans are more likely to spend at least half of their income on rent, according to a
May report
from the Furman Center that focused on renters in major cities. In New York and Los Angeles, among other cities, more than one-third of middle-income renters were severely rent-burdened.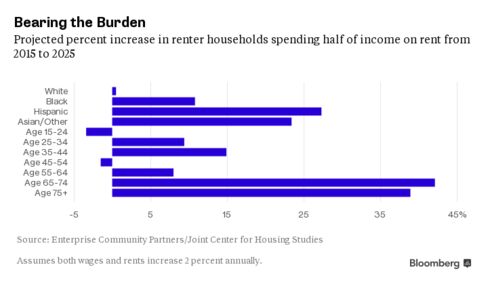 New data from the Census Bureau last week showed that the percentage of U.S. households spending 30 percent of their income on housing was lower in 2014 than in any year since 2005. That's probably because of home buyers taking out new mortgages and homeowners refinancing existing loans at lower rates, housing economist Jed Kolko said. Renters don't have that option, and face an increasingly alarming future.