The San Francisco Bay Area Renters Federation, a pro-density tenants group, is moving to sue the East Bay city of Lafayette after it supported replacing a plan for 315 apartments with one for 44 single-family homes.

Activists from the group, known as SFBARF, said that the downsizing of the project, the Homes at Deer Hill by developer O'Brien Homes, is another example of suburban communities blocking housing and contributing to an imbalance in supply and demand that has exacerbated housing costs throughout the region.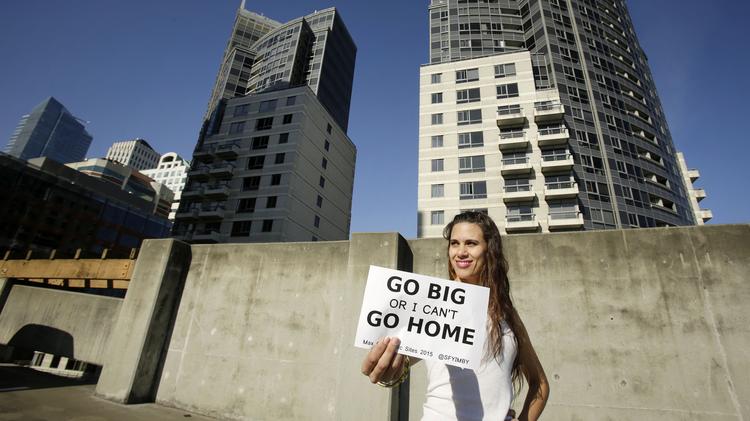 Sonja Trauss, the founder of the San Francisco Bay Area Renters Federation

"We feel it's especially egregious," said Brian Hanlon, an organizer with SFBARF, which has launched a website called Sue the Suburbs. It says it may pursue legal action against other cities as well.

SFBARF is arguing that Lafayette's move is illegal under the state's 1982 Housing Accountability Act, which says that projects that fit within existing zoning cannot be reduced unless the city finds a "specific adverse impact on public health or safety." Lafayette approved the 44-unit plan in August and has a second and final reading of the project scheduled on Sept. 14. SFBARF would have 90 days to file a suit, so its deadline would be around Dec. 13.

San Francisco Magazine first reported the potential lawsuit.

There is a precedent for using the Housing Accountability Act to win approval for projects. Land use attorney Andrew Junius of Junius & Rose, who is advising SFBARF, notes that the San Francisco Board of Appeals ruled in favor of a 12-unit development at 1050 Valencia St. in the Mission based on the act.

The group has to find plaintiffs before filing a lawsuit, likely potential renters that wanted to live in a larger project. Hanlon said he was talking to the United Educators Association for Affordable Housing Inc., which includes teachers in the Bay Area seeking affordable housing options, as a potential partner.

Sonja Trauss, a former private school math teacher, founded SFBARF in the spring of 2014 after she saw numerous examples of opposition to new housing. Trauss, a Philadelphia native who lives in West Oakland and was priced out of San Francisco, believes that new market-rate housing will help alleviate the supply crunch – even if she can't personally afford any of it.

The organization's goal is provide a voice for renters around the region, whom she feels have historically been marginalized in the planning process, which is typically dominated by local residents who oppose new housing. "I want them to feel that they are on the wrong side of history," said Trauss. The group writes letters to public officials, attends public hearings and holds informative panels on housing. Last week, about a dozen of members of SFBARF spoke in support of 75 Howard, a 120-unit waterfront project that was approved by the Planning Commission.

Trauss is establishing a non-profit affiliate to SFBARF called the California Renters Legal Advocacy and Education Fund (CARLA-EF), which would file the Lafayette lawsuit. Since the Housing Accountability Act is a statewide law, it could lead to more legal action throughout the Bay Area and in other areas including Southern California.

SFBARF will need more money. The group has previously raised money from Jeremy Stoppelman, the CEO of Yelp and the San Francisco Moderates. Trauss estimates the cost of litigation to be $500,000 over three years. She is planning to raise $250,000 as soon as possible, and has a commitment of $50,000 from a tech source that she declined to identify. She also plans to apply to the incubator Y Combinator's nonprofit program, which awards $100,000.

The group has gained national media coverage as the Bay Area's housing market becomes more expensive, including stories in the Washington Post, Vox andVice. Its Twitter account has grown to 1,800 followers, up from around 200 in January.

Critics have called the group a "shill" for developers, but the group is composed of a core group of 10 to 15 volunteers and has a 400-member Google Group. Trauss is the only full-time, paid member of the group and occasionally hires help on a contract basis.

Lafayette city officials strongly disagree with SFBARF's approach. "I don't really get it," said Brandt Andersson, the mayor of Lafayette. "We need more housing. The way they're going about it is wrong."

He notes that SFBARF first got involved in the planning process days before the City Council vote and four years after the process had started, and the group immediately threatened to sue them.

He notes that the city didn't reject the denser plan, and began processing the larger application in 2011. But there was negative feedback from residents and city officials to the denser plan, and developer O'Brien Homes proposed the smaller project after discussion with city officials. Since the city didn't reject the larger plan, Andersson said a lawsuit had "no legal basis." O'Brien Homes didn't immediately return requests for comment.

Andersson said that the site's higher density of 15 homes per acre dates back to the Contra Costa County zoning when the land was unincorporated. After the city passed a General Plan and 2012 Downtown Specific Plan, it decided that denser housing should be closer to the downtown and BART station, which would give more residents access to retail and public housing. "If you're doing multifamily housing, you should do it downtown," said Andersson. "It's closer to transit. It'll be more affordable."

The O'Brien Homes site, at Deer Hill and Pleasant Hill Roads, is about 1.6 miles from the BART station and is surrounded by single-family homes.

Andersson is critical of SFBARF's last-minute involvement and lack of knowledge of the city's downtown plan. "That's just not the way planning has been done here for the past 50 years," said Andersson.

He also notes that Lafayette is building more housing. The city has around 370 units in its pipeline over the next eight years, after only growing to 23,893 people in 2010 from the 23,501 in 1990.

Andersson said that SFBARF's legal challenge ignores the city's efforts to support denser housing in more appropriate areas. "They have a position. There are no nuances there," he said.

But SFBARF is undaunted and said that the fact that O'Brien Homes took four years to gain approvals is a sign of how dysfunctional the planning process is in the Bay Area, with most cities failing their regional allocations for housing.

"Almost every Bay Area municipality is out of compliance. The net effect of that is Latino grandmothers get evicted in the Mission," said Hanlon. "Lafayette is the beginning. Lafayette is not the end."