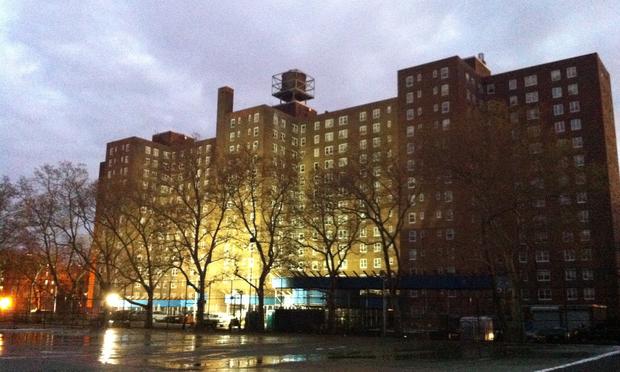 (Shelley Bernstein/flickr)
Near the beginning of his three terms in office, Mayor Bloomberg made two promises: He'd pump billions into affordable housing. And he'd do everything he could to make the city more desirable. He kept both promises.
"We will continue to transform New York physically, giving it room to grow for the next century to make it even more attractive to the world's most talented people," he said in his 2003 state of the city address.
What followed: a building boom that dramatically
changed the city's landscape
- from waterfront parks to modern skyscrapers to big box shopping malls. And soaring housing prices for everyone from the mega-rich willing to drop $15 million for a pied a terre, to the working poor living in what were once considered marginal neighborhoods.
"It does seem that people continue to want to live in New York and that may be a measure of success on the one hand," said Ingrid Gould-Ellen, co-director of NYU's the Furman Center for Real Estate and Urban Policy. "But it's a double-edged sword, because the more people that want to live here, the more expensive it becomes."
The data is stark. In neighborhoods like Harlem, property values have jumped 222 percent and in East Harlem, median market rents went from roughly $1200 in 2002 to $1900 in 2011.
To counter that, the city is on track to create 165,000 units of affordable housing. But at the same time, tens of thousand of affordable units went off-line as landlords exited subsidized programs and regulated apartments went market rate.
It's not only that rents are rising; it's also that a growing part of the population is trying to live in New York City on very modest incomes. According to the city's own poverty measure, roughly 46 percent of New Yorkers were what is considered "near poor" in 2011. For a family of four, that means earning under $46,000 annually.
With incomes that low, the Furman Center says that nearly a third of New Yorkers were what is called "severely rent burdened" in 2011 - which means they were spending more than half their monthly income on rent.
Struggling on minimum wage
In the Bronx, Ricky Padin, who lives near 167
th
Street and the Grand Concourse, knows what that's like. Padin said he practically grew up in New York City shelters. Now he pays $900 a month for a one bedroom apartment he shares with a younger brother.
Padin's rent takes up roughly 75 percent of what he brings home each month. His brother lives with him and helps out, but is inconsistent. Both young men have fast food jobs.
According to the Bureau of Labor statistics, food service has been one of the fastest growing industries during Bloomberg's time in office. It's also the industry with the lowest wages.
"I do everything" at work, Padin said. "Wash the dishes, take out the garbage, everything. I can't say what I don't do over there."
To pay the rent he had been working up to 80 hours a week at two different McDonald's. But he said he was fired from one location after taking part in an effort to protest the low wages of fast food workers.
Padin's apartment is meticulously organized. Even his dirty clothes are neatly folded. He said he has to be careful about how he spends, which means he eats at work or skips meals altogether. Still, Padin said he felt lucky to have his own place. "A lot of people I work with live in shelters, you know, they live with friends, they live in a room or they live with family," Padin said. "But nobody's able to live alone."
(
Photo: Ricky Padin at his apartment near the Grand Concourse. His rent eats up most of his monthly income.
Cindy Rodriguez/WNYC
)
To newcomers like writer Jonathan Larson, the choices can also be stark. Larson lives on the edge of Bushwick and Bedford-Stuyvesant, in an apartment that was once housing for ex-cons, the homeless, and people leaving mental institutions - so-called three-quarters housing. But now the tiny rooms lined up off two hallways get rented for $580 a pop to tenants like Larson, who came to New York City to attend a creative writing program. His neighbor across the hall moved to New York City to become a merchandiser for Macy's.
Larson says he's aware his presence in this neighborhood is likely driving up rents. In Bedford-Stuyvesant for instance, the median market rate rent went from $925 to roughly $1400 between 2002 and 2011.
Gould-Ellen said living in the city is increasingly out of reach. "We've seen in the last 10 years and especially recently during this recession it's been particularly punishing. Rents have continued to go up, but incomes have fallen and poverty rates are increasing," she added.
Winning the housing game
Without a doubt, there have been winners in the Bloomberg years, like those who have won housing lotteries and are now living in apartments newly constructed as part of the Mayor's affordable housing program.
On 166
th
Street and Tinton Avenue in the Bronx, new residents enter an attractive, eight-story building. The lobby and halls here resemble a nice hotel. There is a new gym - and at the top of the building, a glass-enclosed vegetable farm. "You've got basil and a variety of greens, bok choy," said Les Bluestone, the developer of the building.
The urban farm is impressive. The perfect plants are lush and the George Washington Bridge hovers in the distance. To live here, a couple with two kids can't earn more than $52,000 annually. Monthly rents range from roughly $600 to $1000. Five thousand households applied for the 124 apartments.
The Bloomberg administration is proud of its record building well-designed, affordable housing and the effect that this housing has had on neighborhoods. Housing Commissioner Mathew Wambua said the new developments have lifted neighborhoods up. "If in fact rents are rising in a place like Morrisania, in many respects that's a testament to massive investment," Wambua said.
The mayor, Wambua added, "bolstered the tapestry" of poor neighborhoods such as Morrisania. "There was a time where the sense was, you lived here at times as a default and not a choice," he said.
Not too long ago, Harlem was one of those depressed neighborhoods. Right before Bloomberg took office, Carl and Ramona Scott paid just over $400 thousand for their Harlem brownstone. "The prices now for this house would probably be in the neighborhood of a million, maybe more than that, probably a million and a half," said Carl Scott.
Property values rose in Central Harlem 222 percent between 2000 and 2012. The property values here did not go down even during the housing bust. In nearby Morningside Heights, the increase was even greater. Scott, a retired school teacher, and his wife, a legal secretary, are solidly middle class. They feel lucky to have reaped the rewards as their neighborhood gains value. "For me it was great," Carl Scott said.